Listography – Top 5 toys for Kids
October 23, 2011

Posted by Toddling Mad

under

listography
Kate over at Kate Takes 5 is running a special Listography this week – top 5 toys for kids either from your own childhood or that your children enjoy and then will be compiling a list of the Top 10 toys in preparation for Christmas and it's getting closer and closer now.
So here are our Top 5 toys
1. Fisher Price – anything Fisher Price. Whether this is the original Fisher Price garage and plane from my childhood – or the Jumperoo that we brought Little Tiger for his first Christmas anything by Fisher Price has been a huge hit with myself, my brother and our children. This Christmas we are looking at getting Tinks the Fisher Price Tea Set and undecided whether to get Little Tiger some of the Fisher Price Imaginex stuff.
2. Railways – At the moment this is the most asked for toy by Little Tiger, as he gets up in the morning he wants his "Choo Choo Train", he asks for his "Track Train" and will play for the longest with any of these. I personally like the wooden railways from Brio or the wooden Thomas the Tank Engine sets. We're going to be extending the set that we have for Little Tiger this Christmas with a few other pieces as it's so succesful and is maintaining his interest really well at the moment.
3. Musical instruments – yes we are officially crazy but last christmas we brought Little Tiger a drum with various musical instruments within it. It's great fun and he loves getting it out from behind the sofa and playing with it. I remember from my childhood getting a keyboard with my brother for christmas. It was really special as it was late in the day and mum and dad handed us an envelope and we had to go on a treasure hunt. We eventually got to the present and the keyboard was in the car in the garage. It was such a great present and a brilliant way to give a gift for us (we were in our teens at the time I think).
4. Stacking Cups – yes it's a classic for children, we've had hours and hours of fun with them – they are stacked, put together, laid out. We've used them in the paddling pool, in the sand pit, pretended that they are cups, rockets and even stilts. Today we got then out for Tinkerbell to play with for the first time and Little Tiger was on them in a bound – he's recognising some of the numbers (thanks to Cbeebies Numberjacks!) and was telling me the numbers and colours as he was stacking them together.
5. Craft stuff – anything crafty from paints and pencils, to paper, glitter, glue, soft stuff – it doesn't matter what it is but it provides hours and hours of fun. Little Tiger loves getting messy, we paint, glue, draw and make regularly and craft stuff will always be a favourite. As children get older the stuff can change from my first sets, to easel and paints and even as an adult I have been brought paints and a canvas for Christmas to create a picture with. The possibilities are limitless with what can be made.
We're off to link up to Kate plus 5′s listography and have a look at others lists to see what they are saying and gain ideas for Little Tiger and Tinkerbell for this Christmas.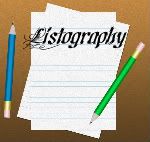 "/>